How Does Curamin Relieve Pain?
Joint Pain
[rate]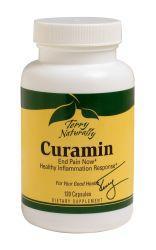 Curamin is a quick and effective way of relieving oneself from pain, and one of the most preferred products by people all over the world. It is an anti inflammatory supplement that works on the muscles in your body that swell because of various reasons and cause pain, and thus eliminates pain at its root.
Inflammation has been discovered to be the main cause of pain in the human body, and thus by acting on this inflammation, pain can be effectively relieved of.
Natural Pain Relief
Curamin, with its all natural ingredients, works effectively as an anti inflammatory agent and instantly relieves the body of pain. As a matter of fact, people have reported positive results in as less as 45 minutes from the time of consumption.
Ingredients:
It is made of the following ingredients – Curcumin, curcuminoids, dl phenylalanine, Boswellia and Nattokinase, all of which together help reduce the inflammation in the body and thus remove the pain. All these ingredients are 100 percent natural and complement each other perfectly. Curcumin is the principal ingredient in turmeric, a popular South Asian spice, which itself is known to have many health benefits, and is extensively used in many Asian countries. A particular component of turmeric, called curcuminoid, has been isolated by researchers successfully and has been found to be as much as a 100 times more effective than curcumin as a whole.
Thus, by using curcuminoids in isolation and in small concentrations, combined with the healthy herb Boswellia, and dl phenylalanine (DLPA), creates one of the best combinations ever – Curamin.
Benefits
The benefits of curcumin have not been explicitly mentioned because it actually needs no introduction. Curcumin has been in use for centuries both in food and as an anti inflammatory agent, and with major success. Thus it is only natural that Curamin be as effective as curcumin, if not more.
Thus the healthy ingredient combination of this herbal formula works in harmony and works diligently on body pain, slowly and naturally removing it bit by bit. As a matter of fact, you most probably won't even notice when the pain goes away, the process is that natural and inconspicuous.
In addition to working on the body's inflammatory responses, Curamin seeks to balance the inflammatory levels of the body, and does it effectively. After all, it is not for nothing that this herbal formula by Europharma has received so many awards, namely "Best of Supplements Awards, People's Choice Award, Essential Supplement Award and Natural Choice Award", to name a few. This herbal formula is available in many, easy to use and reasonably priced packaging, with 21, 60 and 120 capsules in each pack.
For those who don't like consuming capsules, it is also available in powder form, weighing 120 grams. Recommended dosage is 3 capsules per day, as a dietary supplement. It is to be noted that Curamin is not a food replacement; it is just a supplement that balances your body's inflammatory levels and reduces pain instantly. People of all ages can use this herbal formula without worry as it works just fine on everyone with zero side effects. Though, there are many pain revilers available in the market but most of the people prefer curamin.
Available in 60 or 120, with $5.00 off coupon and Free Shipping, Try Curamin Today!
Read More