New! Living Now Gluten Free Allergy Friendly Foods (white rice flour)
Gluten Free Foods
[rate]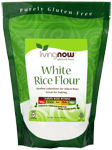 It is important to eat wholesome, healthy, natural and organic foods that are big on flavor but made without the eight major common allergens including peanuts, wheat, tree nuts, soy, dairy, eggs, shellfish, and fish.
We have just picked up this new product called white rice flour. It is an excellent choice for those looking to introduce allergy friendly foods into their diet.
we also have Certified Organic Quinoa Grain, and Tapioca Flour.
VitaNet(R), LLC