New! Siliphos – Clinical Liver Health Supplement
Health
[rate]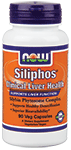 This new liver health supplement by Now Foods is packed with benefits for the liver:
Siliphos is Silybin Phytosome
Silybin is the Most bioactive Component Of Silymarin (Milk Thistle Extract)
Silybin Complexed with Phosphatidyl Choline for improved Absorbability
Supports Healthy Liver Detoxification
Superior Bioavailability
Over Four Times More Absorbable Than Standard Milk thistle Extracts
Silymarin, commonly known as Milk thistle Extract, is one of the industry's more popular herbal products, and has a long history of use as a traditional herbal supplement for supporting healthy liver function.  The fruit of the milk thistle (silybum marianum) is a natural source of complex flavonoids and flavolignans, of which the flavonoids silibinin, silidianin, and silicristin comprise silymarin.  Two of the active constituents of silymarin are diastereoisomeric compounds known as silybin A and silybin B, collectively known as silybin (also silibinin).
Silybin is the most bio-active component found in silymarin, and has been shown to support the liver's free radical neutralizing ability, thereby promoting healthy liver detoxification mechanisms as well as the maintenance of cell membrane stability.  however, silybin typically exhibits poor bio-availability, which hinders its effectiveness as a dietary supplement.
In a small animal trial involving rats, after oral administration of 200 mg/kg  of silybin, the plasma levels of silybin and its conjugated metabolites were below the analytical detection limit, while after oral administration of siliphos (200 mg/kg as silybin) the plasma levels of silybin (free and total) were easily measurable, being well absorbed within minutes when in a phytosomal form.
In another study on rats, the pharmacokinetics of siliphos and silymarin were compared.  silybin given as siliphos 200 mg/kg was detectable in the plasma with in minutes, peeked after 1 hour and its plasma levels remained elevated for over 6 hours.  The AUC (area under curve) value of free silybin after siliphos intake was more than 400% higher than after intake of silymarin.  siliphos was also shown to rapidly reach the liver, cross the liver cells, and appear in the bile with in 2 hours.  the amount of silybin reaching the bile after siliphos dosing was at least 6.5 times higher than that from non-complexed silybin administered as silymarin.
Conclusion:
Siliphos is a huge success, anybody wanting to consume milk thistle for liver health should take siliphos.